Track Tec S.A. – 2018 Top Employer of Eastern Poland
The awards for 2018 Top Employers of Eastern Poland were presented at the Gala Ceremony held on 3 October during the Eastern Economic Congress in Białystok. Track Tec Group was named 2018 Top Employer of Eastern Poland, following a decision made by representatives of local authorities and members of economic organizations. As a contest laureate, the company was recognized not only for its business achievements, but also for its commitment to the local community cause and its relationships with employees.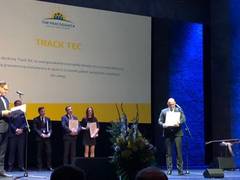 Track Tec S.A. was awarded for a particular care it takes of the security and comfort of its employees, reflected among others in a wide range of social benefits and an advanced employee policy. The award was also influenced by Track Tec's ability to find a balance between business aspects, local cooperation and involvement in social projects.
Track Tec Group is closely related to regions. Two out of its eight production facilities – Track Tec Lipa and Track Tec Suwałki – are located in the eastern borderline of Poland, where it is one of the most important employers. In the meantime, the company is involved in employee projects to support employees' systematic growth and development of their professional skills – says Rafał Bednarczyk, executive director and member of the management board at Track Tec.
In his speech, Rafał Bednarczyk thanked for the award and underlined the company's long-term presence on the Podlasie market and its systematic work on building a relationship with the local community. – The Top Employer of the Year Award is a form of acknowledgement of our responsible business approach to the relationship with employees which we managed to achieve over the years – he added.
Candidates were selected by votes cast by marshals, presidents of provincial capitals and representatives of organizations pursuing their economic policy by attracting investors and developing entrepreneurship. The contest took place for the fourth time already. Yet, this year's edition had a special character since Internet users were additionally involved in the voting.
Thanks to the participation of the public, the contest results better reflect the employees' opinion on their employers.
// 05.10.2018
---